Most people don't like talking about the things we as financial advisors talk about. Topics of death, health, money, debt are all routine and normal discussions at our Johns Island Financial Advisor office; just like when you talk with your spouse about dinner, the kids, that new bag you want, or this weekend's house project. Nothing here is off limits. And we don't judge.
So when I sat down to design the layout and feel of our space, I knew it had to be different. Just as we are unique, our office would have to be as well. I started my Johns Island Financial Advisor firm Coastal Wealth Advisors with a vision of creating a unique meeting space that was welcoming, different, and relaxing. I didn't want the traditional boardroom conference table, stuffy leather chairs, outdated projector, and large, mismatched metal filing cabinets to be the backdrop of the highly personal and sensitive types of conversations we have as par for the course in the financial planning and investment advice business.
And what better way to develop ideas than by browsing Pinterest.
I already knew the color palette from my logo designer Scotti Cline Designs. I also knew I wanted a rustic modern industrial appeal (still not sure if rustic modern industrial is a thing – but if it's not, it is now.) This meant reclaimed wood, the look of wrought iron, linen, a few coastal touches, bright and dark in harmonious attraction, the convenience of the latest technology, with the comforts of a living room.
And I think I pulled it off.
Here's my starting canvas, terrible purple and all: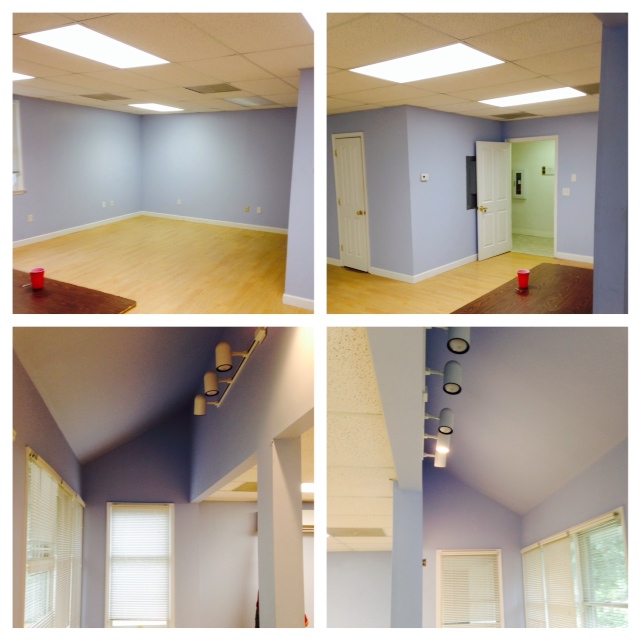 I wanted a lounge area for financial planning discussions; the first step of Our Process. Driftwood fish, local Charleston photography, book shelves complete with Coastal Wealth's Reading List, wrought iron and reclaimed wood coffee table, local Charleston coasters, and linen couch. Real plants. Nautical knot door stopper.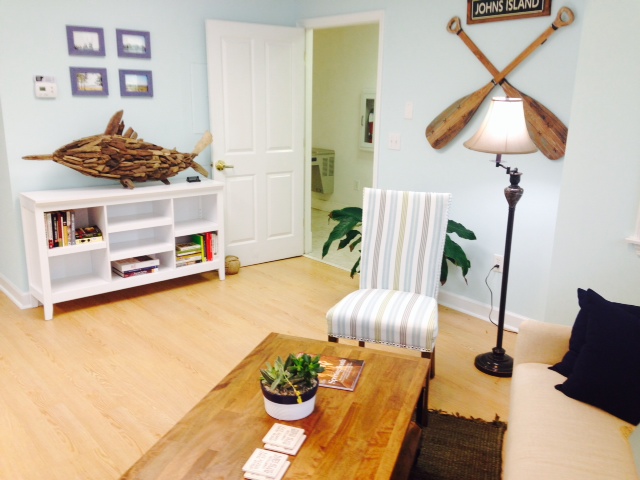 Pub Table for paperwork and financial planning review. Wrought iron bar stools and TV console. Lots of windows for natural light. Wall color is Retiring Blue; fitting for a retirement planner.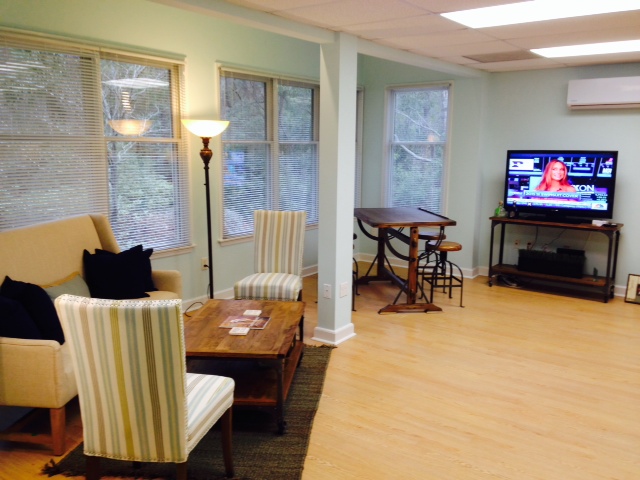 Pull up a chair and a pillow. Grab a book. Let's start a conversation. What are your financial goals and dreams? What are you afraid of?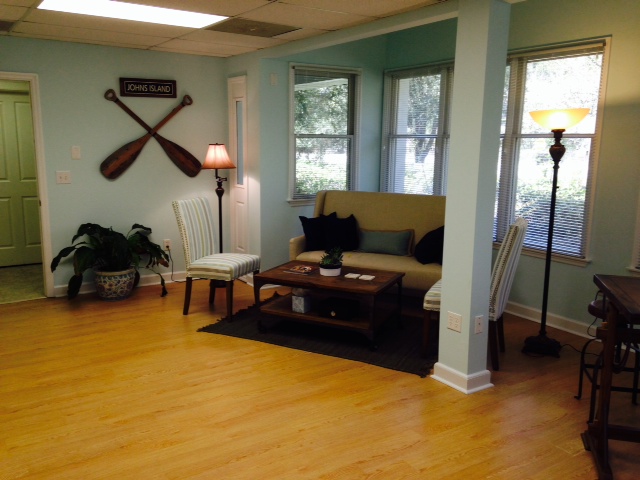 I had to find a way to tie the driftwood and industrial feel into the design. So I #manterest the wood wall from various posts I found. Process began with 1×4 spruce furring strips at Lowes. A little paint of various color palette shades here and there, let dry, then sand to allow wood grain to show through, followed by a medium-colored stain. Viola!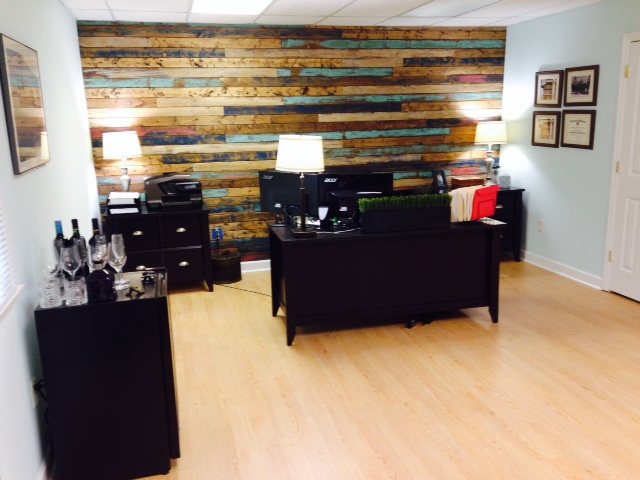 I'm very pleased with the outcome and the overall design of the space. I hope it's an inspiration to you. You can take something rough, unkempt, and non-existent and with a plan, some hard work, and some help, turn it into something beneficial, pleasing, and exciting. I believe this is also true with financial advice. What can seem overwhelming and unorganized can quickly become the opposite with a financial plan and some investment help. That's what we do and we believe we do it well. Stop by our office to check out the space and while you're here, let's start a conversation.